About DAY OF CARING 2017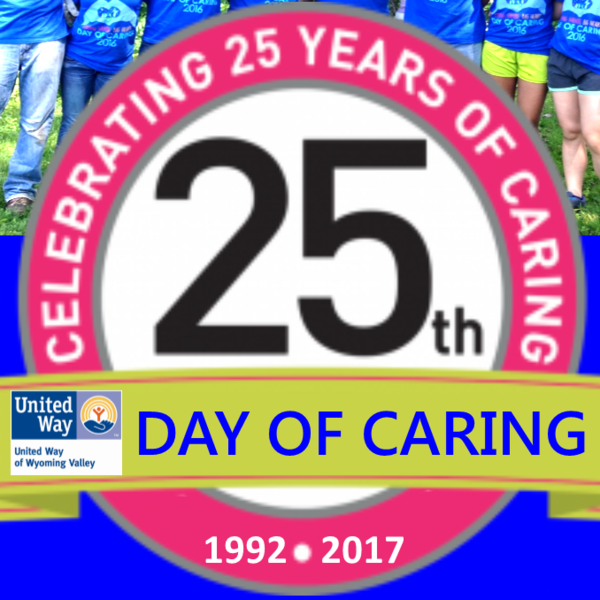 The volunteer projects include landscaping, painting, cleaning, maintenance, beautification, direct client interaction and scores of other critical tasks to benefit the local organizations making a difference in our community everyday.

Please select the project you would like to register for then fill out our survey.

We encourage all teams to join us before heading out to the project site at 8:00A.M. on May 25 at Genetti's in Wilkes-Barre for our Day of Caring 2015 Kickoff Breakfast.

We are thrilled to have you join us for our 2017 Day of Caring!

SPECIAL NOTE: HAS YOUR COMPANY OR ORGANIZATION BEEN A LONG-TIME PARTICIPANT IN DAY OF CARING? SINCE WE ARE CELEBRATING OUR 25TH ANNIVERSARY, WE'D LIKE TO KNOW! PLEASE E-MAIL KATHY AT KBOZINSKI@UNITEDWAYWB.ORG AND LET HER KNOW!
Application Process
Please look through our available 2017 Day of Caring volunteer opportunities below. Select the project you would like to register for.

After you register you will receive a survey asking for your team name, team count, team leader, t-shirt count, and breakfast RSVP. (PLEASE TAKE YOUR BEST GUESS AT T-SHIRT SIZES IF YOU ARE UNSURE. YOU WILL BE ABLE TO UPDATE & FINALIZE THIS INFORMATION ON APRIL 13, 2017 VIA SURVEY.)

***FOR REGISTRATION PURPOSES, PLEASE FILL OUT THE SURVEY AND SUBMIT IT BACK TO US IMMEDIATELY.***

If you are unfamiliar with our GiveGab registration process, please contact Rae Baldino for a registration guide at rbaldino@unitedwaywb.org or (570) 270-9113.
---
We need volunteers to help with:
Hanover Green Cemetery: Memorial Day Cleanup (Outdoor)

May 25, 2017 9:30am

–

3:00pm

Project Site Name: Hanover Green Cemetery
Address:689 Main Rd, Wilkes-Barre, PA 18706
Maximum Volunteers Needed: FILLED

*Volunteers must be over 18 years of age to participate
*Please wear closed-toe shoes and clothes that can get dirty
*Volunteers can bring the following tools or supplies for this project
-gardening gloves
-bug spray
*Lunch will be provided to all volunteers
*There is no alternate project in the case of inclement weather

DIRECTIONS:
-Proceed on South Main Street in Wilkes-Barre to Hanover Township.
-Just past the Hanover Industrial Estates turn left onto Ashley Street at the flashing yellow like.
-Proceed on Ashley Street through the light at the Sans Souci Highway.
-Go up the hill and Cemetery Entrance is directly ahead.

Swoyersville Borough: Sprucing Up Borough Building (Indoor/Outdoor)

May 25, 2017 9:30am

–

3:00pm

Project Site Name: Swoyersville Borough Building
Address: 675 Main Street, Swoyersville, PA 18706
Maximum Volunteers Needed: FILLED

*Volunteers must be over 18 years of age to participate
*Please wear closed-toe shoes and clothes that can get dirty
*Volunteers can bring the following tools or supplies for this project
-gardening gloves
-rakes
*Lunch will be provided to all volunteers
*In the case of inclement weather, this project will still go on as scheduled

DIRECTIONS:
-Located on Main Street, Swoyersville

View More
---