About Adopt-an-Intersection with Sunday Streets!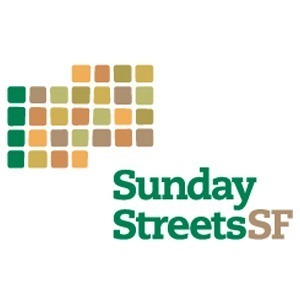 Sunday Streets' new Adopt an Intersection program is a way for volunteer teams, community service groups, non-profit organizations, and community groups to participate in Sunday Streets. You'll have the chance to promote your group to the tens of thousands of people who attend Sunday Streets, in exchange for helping us keep everyone safe and happy at the event.
Sunday Streets wouldn't be possible without the hundreds of volunteers who donate their time and energy each year. The Adopt an Intersection program is a new way for groups to volunteer and support Sunday Streets, while getting a little love in return.

Ensure safety: monitor people traffic at your intersection
Sunday Streets is car-free, but at select intersections, vehicle traffic is allowed to cross the Sunday Streets route. People biking, walking, skating, and doing their Sunday Streets thing must stop at red lights to allow the drivers to cross. City traffic safety officers (PCO's) will control vehicle traffic. Volunteers like you help ensure everyone is safe by slowing and stopping Sunday Streets people traffic at red lights.

Promote your organization and spread a little joy
This is your chance to promote your group to the tens of thousands of people who attend Sunday Streets! The more exciting you make your intersection, the more attention you'll get (and the more success you'll have stopping people at red lights). You may not set up a tent, but you can set up a table, banners/signs/balloons, dance, dress up, etc. As long as you leave space for people to freely travel through the street and do not block or disturb a neighboring business, the intersection is yours to activate!
Please do not sell or fundraise, however you can sign people up or your newsletter, sign petitions, pass out flyers, and generally talk up your organization.

The fine print and details…
Who: Your group must be able to provide enough volunteers to safely control people-traffic at your intersection. This is a minimum of four volunteers at all times (two on each side of the intersection). Plus, you'll want few other people to promote your group because your traffic safety volunteers will have their hands full. We recommend a group of about eight people, but you are welcome to assign other shifts as you see fit.

When: Your group will be responsible for your intersection for the entire day, from setup at 10:30 a.m. until the streets reopen to vehicle traffic at 4:15 p.m. Sunday Streets events are from 11 a.m. to 4 p.m.

You can sign up for one event this year, or every event. There are nine Sunday Streets throughout the year: March 9, April 13, May 5, June 8, July 13, August 24, September 14, September 28, October 19.

What we provide:
You bring the fun and joy, we'll provide the rest! We'll provide all the materials you'll need to control the people-traffic at your intersection, including: safety vests, stop signs, and bright orange volunteer t-shirts. Additionally, we'll give you eight coupons for a free at tasty lunch at a nearby food-truck or restaurant that you can distribute among your team.

Orientation:
We will meet with at least one member of your group in the weeks before Sunday Streets to go over how to ensure safety and control people traffic at your intersection, help you brainstorm ways to make it awesome, and answer any questions you may have.

Ready to sign up? Fill out the group sign-up volunteer form at SundayStreetsSF.com/volunteer or email volunteer@livablecity.org for more information or to sign up!
---