About Festival in the Park Arts Ambassador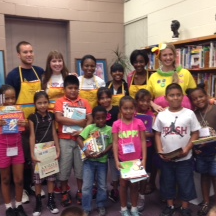 Festival in the Park, the annual arts festival held at Charlotte's Freedom Park since 1964, is in need of helping hands to stage this year's event. All volunteers receive a FREE festival T-shirt and the satisfaction of knowing they are helping to sustain our local arts community.

Volunteers can sign up online at festivalinthepark.org or email volunteercoordinator@festivalinthepark.org

VOLUNTEER JOB DESCRIPTIONS

Artist Relations and Information Booth: Artist Relations duties may include answering telephones, taking work-orders, artist/exhibitor booth sitting and other general artist related incidences. Information Booth duties may include handling sales of Festival T-shirts and posters, and other Festival merchandise; answering questions regarding the Festival (all information will be provided in notebook form).

Festival Greeters: Answering questions from Festival visitors and conducting surveys of attendees.

Festival Office: Assist Festival Headquarters personnel during the Festival with answering the telephone, running errands, maintaining the Hospitality Area.

Festival Setup: Assist with Festival setup prior to the event (volunteers needed Wednesday, Sept. 18 through Friday, September 20). Duties may include: office and stations setups; signage and decoration placement; exhibitor/vendor check-in; running errands and other miscellaneous assistance.

First Aid Station: assistance/backup support for First Aid Station Medics.

Volunteer Station: Duties may include checking volunteers in and out and running errands as needed.

---