About Be a #SOLEMATE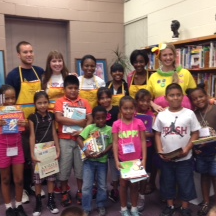 Mark Caldwell (a current MSOD student at the McColl School) is looking for volunteers to be a part of his non-profit project. As part of their leadership development class, they are consulting with a local non-profit in the area. Their group chose " All We Want is Love" – an organization that serves to end human trafficking (http://www.allwewantislove.org/).

Volunteers would participate in a program they run called #solemates. #Solemates is an eight-week program that educates youth on topics ranging from self-esteem, bullying, and healthy eating. Volunteers run programs every Tuesday and Thursday afternoons at an elementary school.

Application Process
Please email Ashley Harkrader at Aharkrader@allwewantislove.org to sign up for this opportunity.
---