About School year or summer educational programs!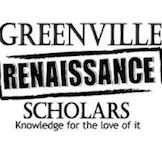 We always welcome community members who want to get involved! We have after school and Saturday programs during the school year and Camp Renaissance during the summer. We have both academic and arts programs so we can be sure to find a good fit for your time, skills and interests. Contact Jon at jondelperdang@gmail.com if you're interested in volunteering with Greenville Renaissance Scholars! Follow us on Facebook at https://www.facebook.com/GreenvilleRenaissanceScholars/
Application Process
We will discuss this once you have an initial conversation with Jon.
---